What is that?!? What pray tell is a NaBloPoMo? Well, it's this crazy thing about posting every day for one WHOLE month.
Do I really think I can accomplish that? Probably not. But I might just try. So if I'm feeling frisky come October 31st, I just might sign up for this crazy thing and see how well I do.
But I make no promises.
In order to practice for this incredible event, I give you a picture.
This little guy was growing in the desolate regions of our driveway against our front porch step. Yup, I know it's in need of some painting. I blame the previous owners though.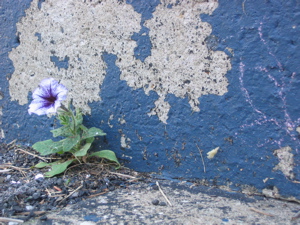 If you look closely, you can see the artistic talent of little miss R there on the step. She got some sidewalk chalk and loves to draw on anything that will hold still.