So Halloween has come and gone. One of my most beloved holidays. What other time of year is it acceptable to wear what would normally be considered incredibly strange?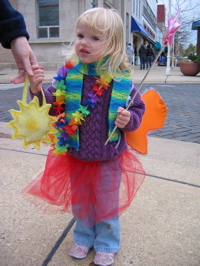 Miss R did do the costume thing at day care, however, when it came to Trick or Treating, she just wasn't that into it. So we sat on the porch and handed out candy to all the cute costumes. She was not about to give candy to anybody scary, so Mommy took care of that.
We had quite the assortment of trick or treaters, and it was a lovely night. Daddy carved some pumpkins (they're famous pumpkins, check out Kotaku-look for Pac-Man) that the high school kids stopped and admired.
And last but not least, here is our darling candy queen doing her best to practice for
next year
.